Allyson Felix
Athlete
Class of 2003
Allyson Felix
These days, many of the nation's greatest prep sprinters come from a background of club or age-group track before they get to high school. But in the spring of 2000 at Los Angeles Baptist High School, a girl named Allyson Felix was as green as any other freshman trying out with Coach Jonathan Patton. She had participated in a small field day back in middle school and played 9th-grade basketball over the winter just passed. Patton hadn't really noticed Felix during pre-season workouts, but when she led her teammates through some timed 60s on the school's dirt track, he couldn't believe what he saw on his watch. He confirmed the distance, watched her do it again, then realized he had something special with the slender freshman.
Felix's older brother, Wes, had been exceling at Valencia High and her parents had instilled in her a great work ethic, quiet determination and a faith which taught her talent was a gift from God. Just a few months later, Felix was running under 24 seconds for 200m and placed 7th in the California state meet. The next indoor season as a soph, she kept improving and took 2nd in the Nike Indoor Nationals. Outdoors, she clocked 23.31 and captured her first state title, along with a runner-up finish in the 100. She made Team USA for the 2001 World Youth Champs in Hungary, winning 100m and medley relay golds.
Felix's work ethic drew her to the weight room, where she impressed football players with deadlifts of 270 pounds – working under Coach Barry Ross. Her national profile grew as she swept the National Scholastic 60m and 200m dashes, then blazed a state meet 100/200 double, getting down to 11.40 and 22.83(22.69w) – just about a quarter-second off the respective national records.
As good as she had been, Felix blew it wide open as a senior in '03. She twice smashed the indoor HSR in the 200, getting down to 23.14 and making her first Senior team for the World Championships in Birmingham, England. Outdoor was even better, with HSRs of 22.51 at Mt. SAC and 22.11A in Mexico City, a 3rd at USAs, and then concluding her prep career at Pan Americans with a 200 bronze and 4×100 gold.
Felix had planned to compete at USC, but decided to sign with Adidas that summer and go pro – while still completing her education. She won Olympic 200 silver in 2004, then 200 gold at her first outdoor World Champs in Helsinki in 2005. That was the beginning of a monumental pro career, still continuing today at age 32, that has netted her 36 medals representing Team USA – including six Olympic and 11 World Championship golds. Her career – extraordinary for its longevity and consistency – has been highlighted by the 2012 Olympic 200 gold, three straight World 200 golds (2005-07-09) and a dozen (!) total relay golds at the two global events combined.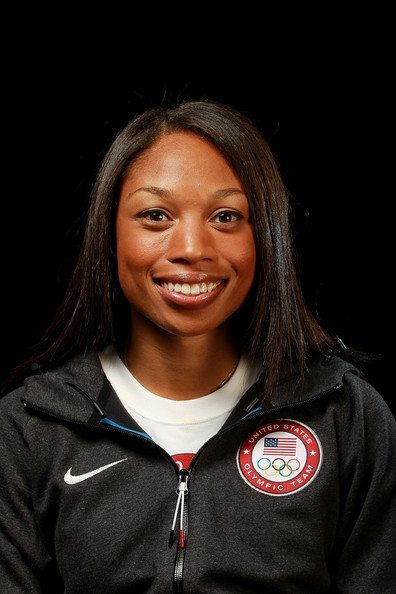 Did You Know?
When Allyson Felix won Olympic 200 silver in 2004, she set a World Junior record of 22.18 seconds that still stands today.