Don Norford
It's certainly not uncommon to see a student-athlete have great success at a school, then come back some years later as a coach to his or her alma mater and have similarly outstanding results. But for Don Norford and Long Beach Poly High School, it went even deeper than that. Picture a lone elementary school boy discreetly observing the action outside the track or gridiron, the athletes inside becoming his heroes, and longing to be part of what he later called "the Poly mystique." That was Norford in the late 1950s.
He would go on to indeed become a student-athlete at the home of the Jackrabbits, if not quite an athletic legend. Little did anyone know, as Norford graduated in 1964, that when he returned there to coach a dozen years later, what would follow would be a legendary coaching career – not just in California, but on a national level.
When Norford started coaching and teaching at Poly in 1976, however, it was primarily football. He would shine in several position coach spots, a key part of 10 Jackrabbit CIF titles over the years and helping guide 45 players to the NFL. In fact, the NFL honored Norford – remember, an assistant coach – with a national coach of the year award in 1996. It wasn't until 1989 that he took over the track programs, which had been having very limited success.
Once Norford's speed training techniques, discipline and fatherly guidance took hold, the Jackrabbits started rolling. From 1989 to his retirement in 2014, Poly racked up 18 team state championships (13 girls, 5 boys) and 24 Southern Section titles. But by the early 2000s, Norford's teams weren't just dominating California, but setting records nationally. In 2003 and 2004, the Shalonda Solomon-led Jackrabbit girls set U.S. prep records in the 4×100 (44.50), 4×200 (1:33.87), 4×400 (3:35.49) and 800 medley (1:38.73) relays. Fourteen years later, all but the 4×2 still stand. In 2011, the Poly boys' set the 4×800 HSR with 7:28.75 to win New Balance Nationals Outdoor.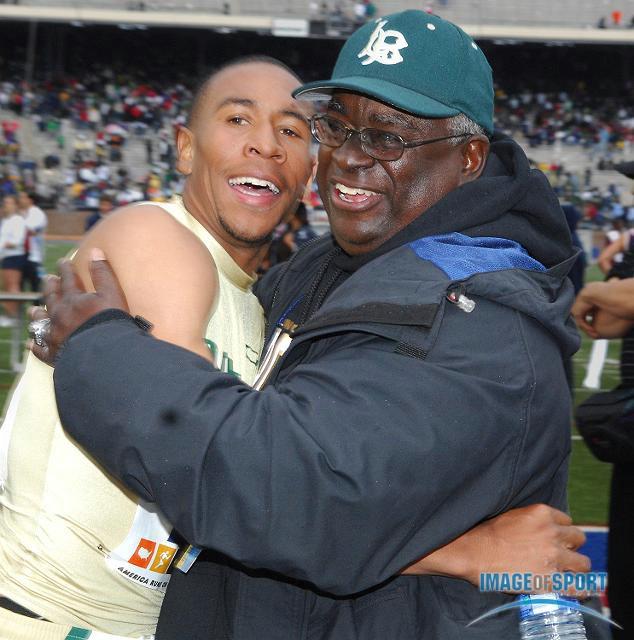 Coach Norford started taking the Jackrabbits to the Penn Relays in the 1990s, where they would cement their rep as a national power in memorable duels against the outstanding Jamaican squads and top East Coast programs. Poly teams won 13 Championship of America titles under Norford between 1995-2012. Triumphant anchor legs by the likes of Solomon (2003 4×1/4×4, 2004 4×4), Bryshon Nellum (2006 4×4), Akawkaw Ndipagbor (2011 4×1) and Ariana Washington (2012 4×1) have become part of the Penn legend and lore, and the roar at cavernous Franklin Field always reaches a crescendo when the words "Long! Beach! Poly!" boom from the mic of announcers like Ron Lopresti.
A thoughtful Long Beach Press-Telegram retirement tribute to "Papa Don" in 2014 quoted outstanding late 1990s athlete Darrell Rideaux: "The thought that he won't be there anymore is very difficult to imagine … Don Norford is Long Beach Poly."
Did You Know?
From 1989 to his retirement in 2014, Poly racked up 18 team state championships (13 girls, 5 boys) and 24 Southern Section titles under Coach Norford.